News & Events
Regina 2014 NAIG Host Society unveils their new logo
December 6, 2012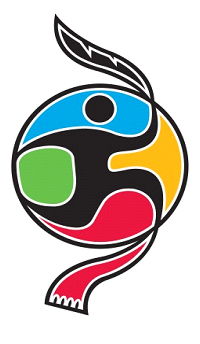 Regina 2014 NAIG Host Society unveils their new logo
At an event in Regina, Saskatchewan, Canada the Regina 2014 NAIG Host Society unveiled their new logo for the 2014 NAIG.
The NAIG 2014 logo incorporates a medicine wheel into the design (circle with four parts) along with a figure of an athlete in motion. The medicine wheel symbolizes the interconnection of all life, the various cycles of nature, and how life represents a circular journey. The number four is sacred and can represent many things: the four seasons, the four parts of a person (physical, mental, emotional and spiritual); the four kingdoms (animal, mineral, plant and human); and the four sacred medicines (sweetgrass, tobacco, cedar and sage).
The logo encapsulates all North American Indigenous peoples – First Nations are represented with an eagle feather (top of logo) which can also be interpreted as a torch for the games, Métis are represented with the traditional sash (bottom of logo), and the Inuit are represented with the ulu (traditional knife – right part of logo in yellow).
The colours used are also sacred and symbolic to Indigenous people. The final logo design is bold, dynamic and captures the spirit of the Games.
"Let the Games begin"
---